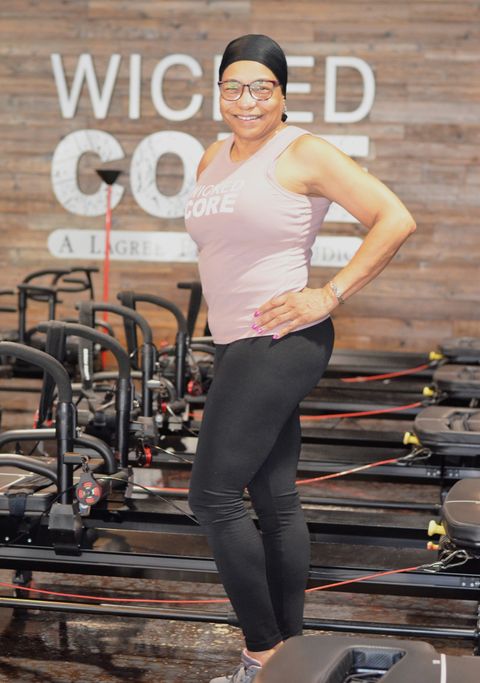 "I finally love the way I'm feeling"
Kathy
I was diagnosed with Type 2 Diabetes in 2017, lost 30 lbs and gained back 40lbs. I knew this journey would mean a lifestyle change for me to be successful . I moved to Texas September 2018, started going to the Gym and began to loose the weight, but my self awareness informed me that I needed to do it differently, I came across Wicked Core in July 2019, joined and have received a lot of support and encouragement from both staff and members. I celebrated my 300th class, changed my lifestyle, lost 40 lbs and am keeping it off. To celebrate my accomplishment I asked for Shania Twain's "I Feel Like A Woman", to be added to the playlist that day. I finally love the way I'm feeling , Thank You Wicked Core!!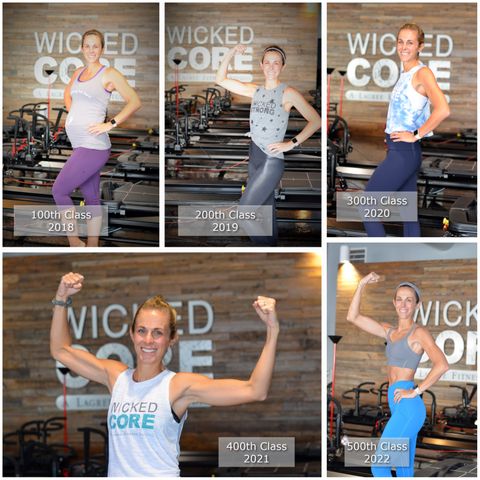 "It works!"
Lauren
Can you do Lagree while you are pregnant? Yes! Can you get your body back after pregnancy? Yes! "The main reason Wicked Core has me coming back after 200 classes is simple. It works!" Lauren is a busy working mom of four and loves❤️ that she can get in her full-body workout in 45 minutes. She loves❤️ that the exercises are always challenging her and she has fun learning and mastering all the moves, especially when there's a new one thrown into class! She appreciates that Lagree nicely compliments her yoga practice and feels like it's the best of both worlds. Lauren really impressed us by working consistently through her pregnancy (she hit her 100th class during her third trimester!) and says she feels like her recovery has been made smoother because of her healthy habits including her Lagree workouts before, during, and after pregnancy. She also says it's because of Wicked Core that her closet has so many cute new leggings!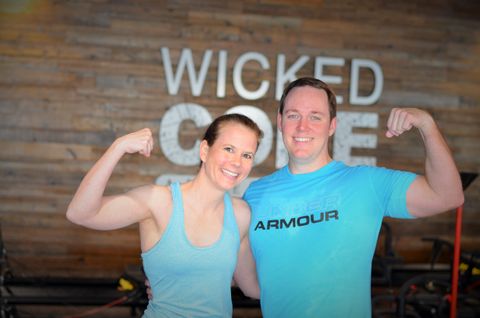 "The best part - we get to workout TOGETHER!"
Brian
"Wicked Core provides one of the best workouts I have ever experienced. I have worked out for many years with weights and a dip machine in my garage. In April of 2017, my wife and I discovered Wicked Core and The Megaformer Machine. After one year of Wicked Core, I sold my weight machine and free weights, and we invested our time and energy getting into WICKED shape. My wife and I have experienced amazing results. We are leaner, stronger, and mentally sharper. We have both lost 15 pounds and increased our muscle size and definition.
The best part - we get to workout TOGETHER!
Ladies - if you have found this page and read this post, please tag or share with your husbands.
I want to challenge the men out there, who might doubt the intensity of this core training, to give this workout a try. Wicked Core WILL challenge your strength. Wicked Core WILL make you work. Wicked Core WILL show you where you are weak. Wicked Core WILL test your mental strength. I CHALLENGE you to show up. Do it for your wife; do it for yourself!"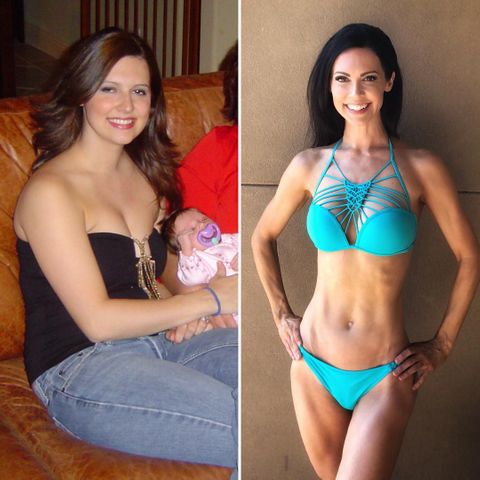 "I'm in the best shape of my life."
Amy
The pic on the left was taken when I was 25, right after I had my first child. I had a bad relationship with food and didn't exercise. The pic on the right was yesterday. I'm now 37, have three kids and I'm in the best shape of my life. Although I did lose a lot of the baby weight after the first pic was taken, it wasn't until I started working out at Wicked Core 2 years ago that my body really started to transform and I started to develop strength and muscle tone that I had never had before.
It was also around that time that I made the commitment to start taking better care of myself. For me, that means eating clean 80% of the time, strength training at Wicked Core 3-4 times per week and fitting in additional cardio 1-2 times per week, usually at Ride.
Like everyone, I still sometimes struggle with food choices and there are times I don't feel like working out, but I push through that, knowing how important exercise and nutrition are to my overall well-being.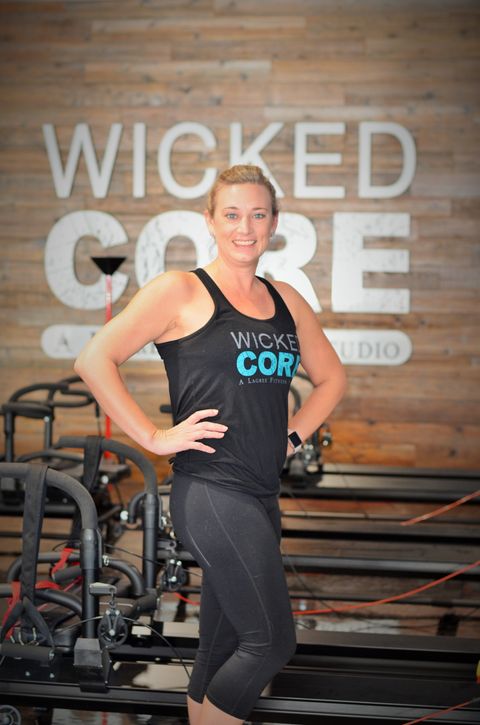 "I dropped from a size 6 to a size 2"
Cathryn
"So excited to hit my 100th class! When I started at Wicked Core I was at my heaviest with multiple health problems. I had migraines, lower back and knee pain, low energy levels and just wasn't happy to name a few. I really struggled through classes and wanted to quit many times but I would shake through each class! Then I started noticing less aches and pains and I was smiling more so I kept it up. This is the first form of exercise I had found that was low impact, high intensity that worked for me. And the only "pain" I had was being sore.
The mental and physical changes I have seen in myself makes me proud of the work I have put into myself. The 45 minutes of "me" time 3 to 4 days a week resulted in a drop in my clothes size from a 6 to 2, 15 lb weight loss, more energy, strength and I'm so much happier. I'm so proud of my results and invite you to join me on this amazing journey."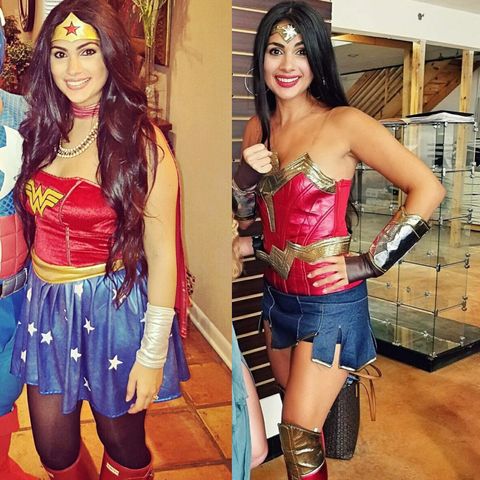 "Wicked Core not only became my way of reforming my body, but it helped to reform my mind."
Nicole
"It all started with the picture on the left... I am a mommy to 3 boys and we dress up a ton in costumes, whether its for birthday parties, Halloween or just being silly with them.. I saw myself in the costume and almost teared up, I didn't recognize myself.. I grew up competing in pageants and always had self confidence and body confidence but having 3 pregnancies in 4 years really took a toll on my body.. after the first picture was taken I tried to run in the mornings but just could never get motivated enough to wake up and do it consistently, I was so tired and out of shape.. I tried to do a couple at home workouts and never could do that consistently either.. I tried a cycle class and would just get bored and go over the grocery list items I needed to buy at the store afterwards in my head the whole time ... Finally, I met Deb who owns Wicked Core out in Tomball and I went with a friend and fell in love within the 1st Escalator lunge hold I had to do.. I immediately signed up for a membership and started waking up every morning at 4:30 AM to attend a 5:30 AM class.. If you know me, you know I'm not an early riser person and having 3 little ones at home I really take pride in having my sleep, but this was worth it I could tell this would be worth it.. After just one month of working out I was already starting to see the pounds come off and my body start to reshape.. Unfortunately, I went through a really tough summer and had some personal family issues going on, Wicked Core not only became my way of reforming my body, but it helped to reform my mind. The workouts were so intense that I could focus on nothing but them for 45 min and it really became therapeutic for me in a way to release some stress... I went down two dress sizes from a squeezing into size 4 to a zero and lost about 12 pounds in a 3 month period and got my confidence back... To say Wicked Core transformed me is an understatement I love truly love the Lagree method, truly..."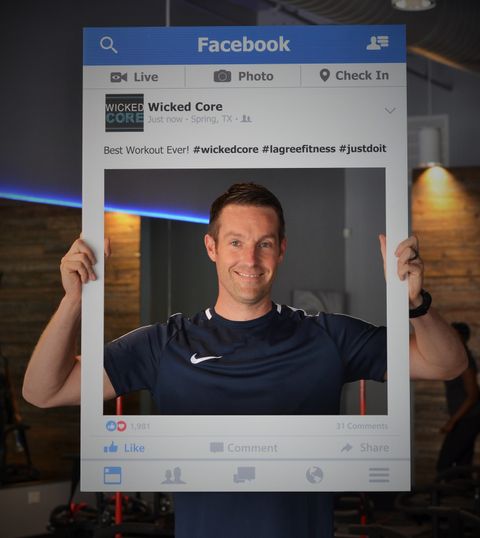 "Wicked Core changed the course of my life"
Michael
"After 6 months of severe back pain and muscle spasms following surgery, I was out of options. Three different doctors told me there was nothing else they could do other than prescribe more pain pills. I had hit a low point in my life and wondered if every last bit of my youth was behind me, whether I would ever be able to enjoy the physical activities I loved again.
My wife was a regular at Wicked Core and asked me to try a class with her. I was reluctant to risk making my back worse, but decided to try it out. Surprisingly, I was able to do most of the exercises, and when I couldn't do something, the instructors would help me modify the workout to what I could do. It was hard, but low impact. I was excited to find a way to exercise despite my back problems, and started going to classes 4-5 times a week.
After around 10 classes I started feeling a big improvement in my back pain. I was so encouraged, that I bought an unlimited membership so I could go to as many classes as possible and made it my goal to take my life back from the pain.
I just hit my 50th class and in a little under 3 months my back pain is completely gone. I feel stronger than I have in years and have more energy than I can ever remember. While the Wicked Core classes are still a challenge and not something I always feel like doing, I've made them a permanent part of my week. I truly feel like Wicked Core changed the course of my life."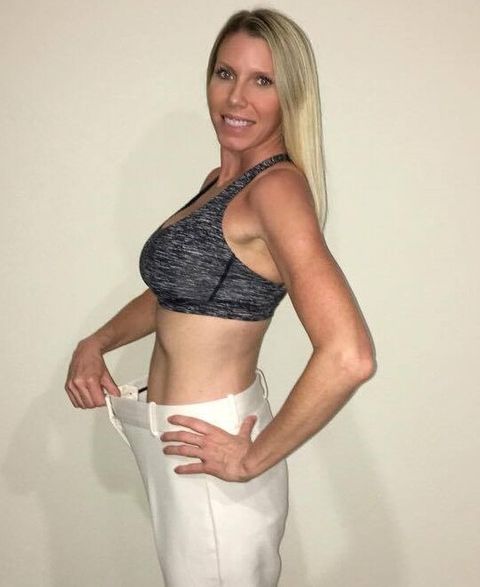 "It's changed my life!"
Sarina
"These pants are part of a suit that I bought in October 2016, just before starting Wicked Core classes. ALL of my pants fit like this now! I am down 10 pounds and who knows how many inches?! Super grateful for Wicked Core; it has given me the confidence and strength to start training for the Woodlands Marathon! I'm a mom of 4, travel 3-4 weeks a month, but I always try to find time to squeeze in a class! I'm truly thankful for your studio.... It's changed my life!"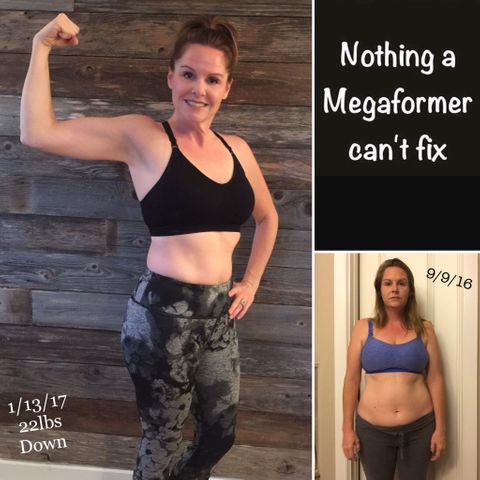 "I am feeling stronger then ever!"
Bridgette
"At the end of August this year, after seeing pictures of myself, I decided to make a change. I have never been so out of shape, and I wanted to set a better example for my children. I started off at a high intensity gym and did have some success. I was working out over an hour everyday, in addition to the work outs, they taught me about eating the right foods to feed by body to have the best results. During those 4 weeks I only lost 5lbs, I quickly started to lose my motivation when the consultant seemed disappointed with my results. This left me discouraged.
Thankfully, I have great friends who encouraged me to push through. One friend suggested the new place opening in October, Wicked Core, so we each bought a 10 class package. The first day we walked in I thought what have I gotten myself into, I've never been into gyms, Yoga or Pilates, and this looked like I had gotten in over my head. I made it through the first class without injury. Just a lot of shaking!! It was so different and challenging!! I had to retrain my brain to move slowly with controlled isolated movements. I must admit, there have been moves where I was cursing under my breath. I was hooked!! Over time I felt my muscles getting stronger, I started seeing the changes in the mirror and the scale. It felt rewarding. Over the past 3 months, thanks to Wicked Core and the AMAZING instructors I have lost an additional 17lbs and am feeling stronger than ever!!"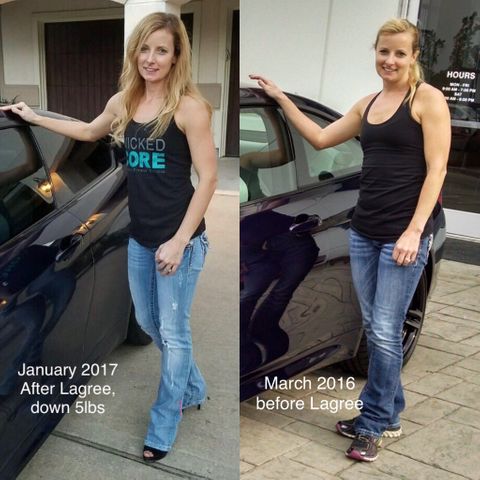 "Wicked Core has changed my life and it can change yours as well"
Deb Miner, Wicked Core Owner, Instructor, and Runner
"I took my first Lagree class in 2016 and fell in love with the workout after just one class. I was a runner who never cross trained, so I had a runner's body, with no upper body or core strength. Through Lagree Fitness, I have not only strengthened my upper body and core, but I have also built up leg muscles that I never used during the repetitive nature of running. Back in March 2016, when this first picture was taken, I had just completed the Houston Marathon and Woodlands Marathon, so I thought I was in good shape until I compared it to this recent photo. I have now lost 5lbs and at least an inch in my waist and my muscles are leaner, longer and stronger. I never made a diet change during this time, I just built up from 1 class per week before the studio was open to 4-5 times per week now. Whether you want to lose 5 lbs. or 50 lbs., Lagree Fitness can get you there. I am so proud of our clients that have already seen incredible results and I look forward to helping more of you achieve your fitness goals. Wicked Core has changed my life and it can change yours as well. Commit to be fit with me!"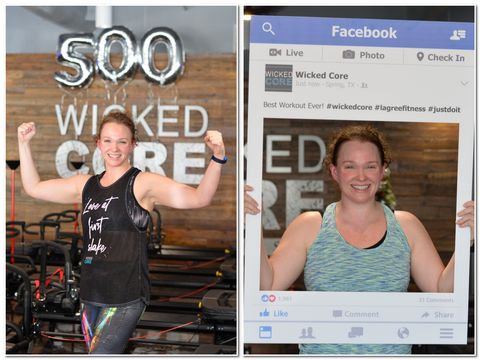 "I love everything about Lagree, Wicked Core and the Wicked Core Family"
Trish
"After completing 500 classes at Wicked Core, everything about my body has changed. I've lost weight, lost inches, dropped several clothing sizes, gained lean muscle, and increased my flexibility. At almost 40 years old I am the strongest I have ever been. Every single muscle in my body has leaned out and gotten stronger; my biceps, triceps, abs, obliques, back, booty, hamstrings, inner thighs, outer thighs, quads and calfs.
I'm enjoying the mental aspect of continuing to set goals in Lagree class, crushing the goals, then finding new goals. I've also learned to make myself a priority again, which was tough after having kids.
I love everything about Lagree, Wicked Core and the Wicked Core family! I've gained a bunch of new friends in the Wicked Core family and love how supportive everyone is. Thank you so much to Deb and the amazing instructors at Wicked Core for continuing to challenge and inspire us."