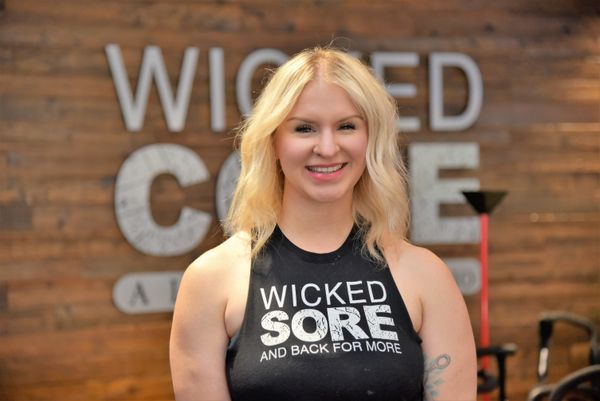 Angela Cannella
Instructor
Angela is originally from a small town North of Houston called Willis, TX. Once graduated from High School she moved to Austin, TX and perused a career as a Cosmetologist while taking night classes at the local community college. Fast forward 5 years she was offered a position to come back and work for her family business as it was expanding. She is now the CEO of Pallet Rack Systems, a company servicing warehouse distribution and material handling.
From being on her feet all day to behind a desk for the last 5 years left a toll on her body, gaining 40 pounds. She got a gym membership and went thru a whirlwind of diets, finding minimal success with all her attempts to lose the weight. Then Angela's 3-year boyfriend FINALLY popped the question in October of 2016, knowing she would stop at nothing to be at her best shape on her wedding day and going into her 30's she found Wicked Core in November of 2016.
Since starting classes Angela found the comradery and motivation for actually pushing herself to her full potential in each class. Always motivating friends to come in and try Wicked Core with her, she continues to spread the word of Lagree Fitness and her passion was easily transitioned into instructing. Angela has completed over 200+ classes and her drive to be the better version of herself as well as encouraging anyone and everyone to join her on a healthy and prosperous journey. She has dropped 25 pounds within the year, gained lean muscle mass and with her Wedding coming up in January of 2018 her motivational grind is in full force. Angela is a Level 2 certified Lagree Fitness Instructor.
Will it be easy? No, and I know this first hand. Waking up with determination will leave you going to bed with satisfaction. So come Lagree with me, because you gotta Hustle for that Muscle!! ~ Angela